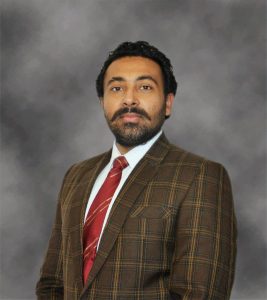 The University of Missouri College of Agriculture Food and Natural Resources welcomes Gurbir Singh to the Lee Greenley Jr. Memorial Farm in Novelty, Missouri, as assistant professor and state Extension specialist in applied soil science-agroecology and landscape position management. Greenley is part of the Northern Missouri Research, Extension and Education Center (REEC) of the Missouri Agricultural Experiment Station.
"We are very glad to welcome Gurbir," said Shibu Jose, CAFNR associate dean for research and director of the Missouri Agricultural Experiment Station. "Information from site-specific research trials at the Northern Missouri REEC is critical for local producers, and we are thrilled to have Gurbir's expertise in soils and hydrology added to the team."
Singh began the week of April 4 and is responsible for "providing essential research knowledge and outreach information about precision agriculture technology, landscape-based soil management, agroecology, value-added crops, and hydrology for crop production in upstate Missouri."
Singh was previously an assistant professor at Mississippi State University in Stoneville, Mississippi, where he was responsible for conducting research on irrigation water management, soil and water quality in row crop production systems and improving soil fertility recommendations for irrigated crop production systems. He established a water and soil quality lab at the university for the National Center for Alluvial Aquifer Research, Delta Research and Extension Center.
"We're happy to welcome Gurbir to MU Extension and the Northern Missouri REEC," said Rob Kallenbach, CAFNR associate dean for Extension. "His expertise and Extension efforts will be vital to our plan of doubling the value of Missouri agriculture by 2030."
Singh earned his PhD in agricultural sciences at Southern Illinois University in Carbondale, Illinois. He received his bachelor's degree in soil science at the Punjab Agricultural University in Ludhiana, Punjab, India, in 2011 and earned his master's degree in soil, environmental and atmospheric sciences at the University of Missouri, Columbia in 2013.
You can reach Singh at singhgu@missouri.edu.